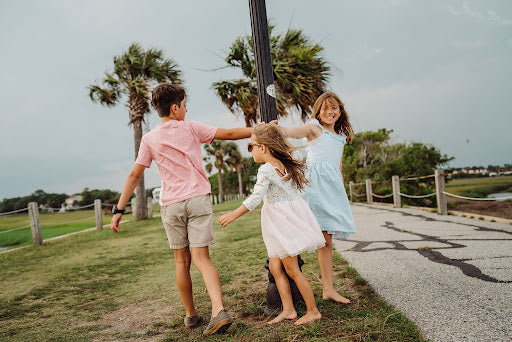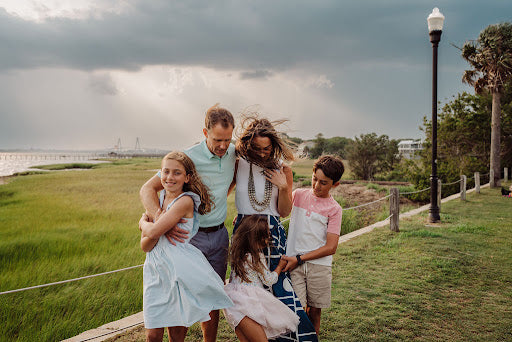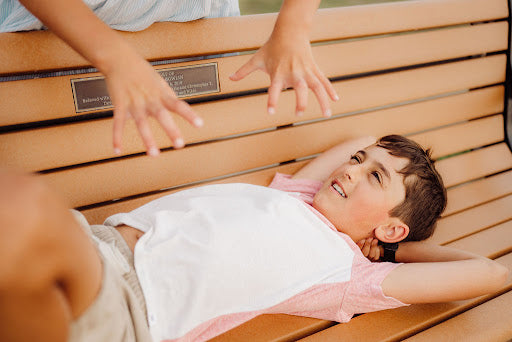 In this ship together.
As a mom of 3 who put my kids, family and career first, it was my loving 7 year old daughter that set me on a self care journey when she called me out for thinning hair and looking exhausted all the time. She was right and in the midst of everyday life, I missed that she and her older brother had outgrown baby shampoo 🫣
When kids outgrow the baby and toddler stage, they blossom into adventurous kids full of imagination, creativity, and an intense ability to play hard. They see. They feel. And, they know more than we can imagine. Yet, we don't often support the development of their self care habits early enough. We either hand our kids something cheap and generic (loaded with harsh chemicals), baby shampoo (which they have outgrown) or a bottle of our adult (uninspiring) shampoo.
Captain & Skipper is much more than a hair brand. We help parents build meaningful connection with their kids and provide you with high-quality products to raise adventurous, self-aware and inclusive kids, through self care routines and a little humor. It's for her. It's for him. It's for all of us.
And, Mia's simple revelation...well, it saved me and led to my breast cancer diagnosis.
We truly are...In this ship together.
Look, Mom and Dad! A Real Kid's Brand.
Traditional kids brands didn't reflect our values and needs, so we made one that did.
Adventurous

We encourage kids (and adults) to take risks and try new things. Stepping outside of our comfort zone is where we truly discover what we are capable of. Physical, mental, and social adventures fuel us to become better versions of ourselves.

Self-Aware

Childhood is an important time to develop healthy habits, build resilience, express feelings and gain knowledge of our own thoughts, actions and emotions to enhance our overall quality of life. We added Affirmations to every bottle.

Inclusive

We embrace all genders, races and hair types. Building relationships with others develops empathy and grows an understanding attitude towards others in any situation. Together, we are magical.

Modern

The world we grew up in is very different from the world our kids are growing up in and it does not come with a map. They are digital natives with instant access to anything. As adults, we learn new skills to support our children, become better people (and parents), build connection and grow with them.
Are you the Captain or the Skipper?
As we raise the next generation of adventurous, self-aware and inclusive kids, we help them discover the magic within themselves.
Yet, often our children teach us about life and how to live it.
Join us on our mission to #buildconnection #navigateshipshows #growwiththem
Life happens between calmness and the storms.
There is no map for this adventure, it's a ship show.
Drop the line. We're here for you.